A unique digital platform for the patient experience
With Multimed, you can now combine resident entertainment with optimized operations. This one-of-a-kind entertainment and medical information solution can be used in patient or resident rooms – at nursing homes, clinics and hospitals – but also in outpatient care, to enrich everyday lives and simplify the coordination of treatments.
With functionalities like access to specific therapeutic content and teleconsultations, post-op monitoring and appointment scheduling, this platform is a response to issues relating to the patient experience and the optimization of accommodation, establishing a new balance thanks to technology.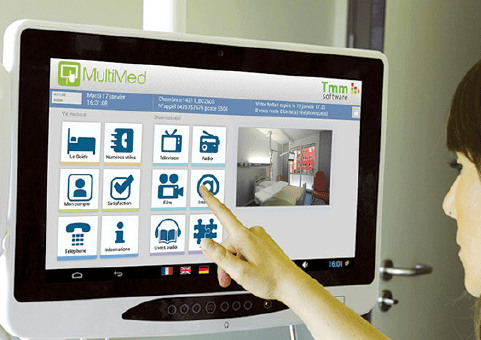 Présentation Multimed
A digital solution for patient well-being
Multimed is compatible with all kinds of smart devices and features a range of services dedicated to enriching the patient experience, improving their monitoring and facilitating communication: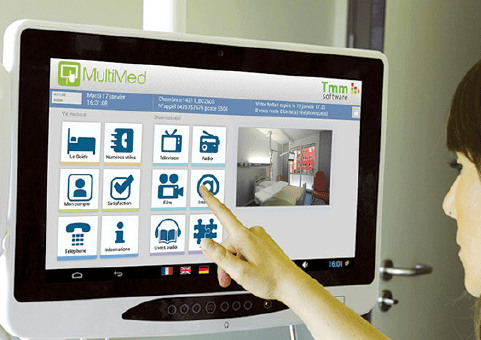 An ally for service efficiency
Over and above the patient experience, Multimed helps to optimize the organization of accommodation and the revenue it generates at healthcare establishments thanks to features that can easily be integrated with existing information systems:
Multimed is an intuitive platform that allows for simple, instantaneous interactions between patients and healthcare professionals.
Multimed improves the patient experience by incorporating innovative, personalized services.
Optimized accommodation revenue
Multimed lets you centralize your departmental charges, manage them by group of establishments and by department, and handle online payment methods.
A secure, user-friendly integrated innovation
Not only is Multimed perfectly interoperable with your connected ecosystem, but it is also easy to use, even for people who have little to no experience with digital technologies. From integration to your learning process, Softalia will help you harness the full potential of this innovative platform.
A turnkey multimedia solution available on Androids
Accessible on any type of digital terminal
Suitable for both inpatient and outpatient care
Compatible with equipment that meets the needs of specific pathologies
Designed in accordance with healthy data hosting, data processing and other standards
You want to entrust us with a project, obtain more information on our offers, or meet us?